THE JOURNEY…
The 21st century requires scientific and technological innovations that are important to face the challenges of globalization and a knowledge based economy.  To succeed in such a highly technological society, students  development in a holistic level is very essential, much beyond what was considered acceptable in the past.
Founded in 2007 to impart solemnized wisdom, Sree Dharma Kalpadruma Yogam  Gurukula Vidyalaya has a program that involves creativity and innovation as its core competencies.  Through this, the students develop a mastery over world class learning, personal growth and readiness for the future.
The school is situated in a quiet environment, one kilometer away from Tripunithura town.  The building is spread over an area of 3 acres and is located next to Pottayil Devi temple in Eroor.  With the blessings of Pottayil Amma, the school has grown over the years and has a strength of 750 students from KG to class XII.
In SDKY Gurukula Vidyalaya, we provide strong academic foundations, a passion for learning, develop skills that ensure the capability of students to meet international educational standards.  The school follows the CBSE pattern of education.  The school environment and the classroom structures are designed in order to help students to realize their full potential in a holistic way.
Our experienced, passionate staff are ready to undertake any challenge and lend support and care for the students.  They ensure that the social values of respect, discipline, integrity is instilled in the students of the school.  These key elements that personify SDKY Gurukula Vidyalaya, are the foundation on which we work towards a holistic future of each and every child that steps into the SDKY Gurukula Vidyalaya campus.
VISION  OF THE VIDYALAYA
Provide a conducive  environment that fosters and inspires students to be life long learners and contribute positively in a diverse and changing world.
MISSION OF THE VIDYALAYA
We believe that each student can achieve their fullest potential throughout their period of education in the school.  In partnership with the parents, the entire staff of the school strive to provide an inclusive and holistic education that guides students towards attaining academic excellence and personality development. Emphasis is given to the physical, mental, social and spiritual development of the child's personality.   This will ensure that every student who  leaves the portals of SDKY Gurukula Vidyalaya is fully equipped / prepared to pursue and achieve their dreams and be a responsible  global citizen.
CORE VALUES OF SDKY GURUKULA VIDYALAYA
All students are different.  Their backgrounds, their learning capabilities and their innate potentials are unique.  Ensuring equality in education for all these students of different capacities is a challenge and we are ready to take the same, by means of experiential learning, inclusive education.
Each student is made capable of acheiving their dreams through hard work and perseverance.  They are made to realize that they can learn more than what they thought was possible and thus stretch across boundaries- thus become excellent performers.  These capabilities of good performance are highlighted as an example to be followed by the younger students of the school.
Other than excelling in academics, SDKY Gurukula Vidyalaya ensures that a child is educated to to face any challenge or difficult situation that  life has to offer.  Positive thinking, decision making, problem solving skills are developed in the child for a successful life.
Life is what you make out of it – is the motto based on which focus is on self discipline, self awareness, self responsibility and self confidence.
SDKY GURUKULA VIDYALAYA
The teacher delivers instructions based on the learning ability of the child through Experiential learning, Inclusive education
Technology is used in the classroom for better learning purpose of the student
Students establish respectful behavior towards all members of the student community, teaching and non teaching community
Students are taught to apply their knowledge in the real world situation and thus experience the effects of their knowledge in the world outside
Sports activities and club activities are encouraged amongst the students
Staff undergo training by Governmental / Non governmental agencies for the development of their skills and subject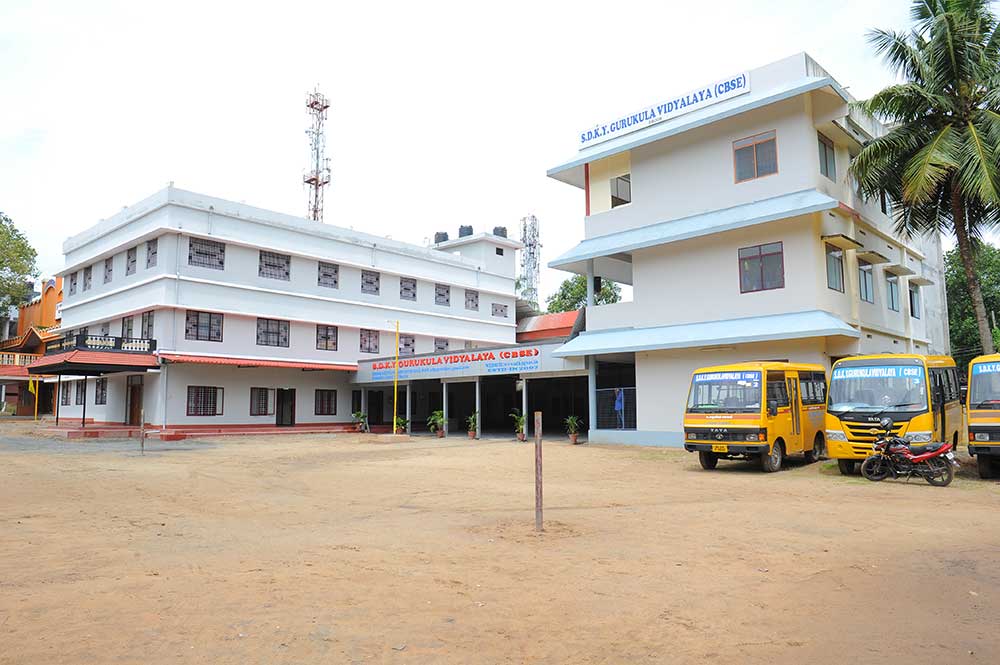 For more details, please feel free to contact us!